You're Always Welcome
We welcome you to the website of The First Baptist Church at Conshohocken. We trust that these pages will draw you into deeper consideration of the Gospel of Jesus Christ, allow you to hear with clarity of His love for you, the truth of His Word & of your need to come to Him, both in repentance of sin & reception of Him as your Savior & Lord.
We pray; too, for those of you who are already immersed and ensconced in Christian faith. May you have opportunity as you peruse this sight to grow further in your Christian understanding & personal rapport with Jesus Christ.
We are delighted to make your digital acquaintance, & very much want to meet and to share fellowship with you in person as we look to our beloved Lord together.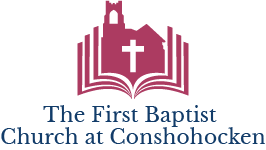 I will extol the Lord at all times; His praise will always be on my lips. My soul will boast in the Lord; let the afflicted hear and rejoice. Glorify the Lord with me; let us exalt His name together.
(Psalm 34:1-3, NIV)
Repent, and turn to God, so that your sins may be wiped out, that times of refreshing may come from the Lord, and that He may send you the Messiah—even Jesus.
(Acts 3:19, 20)
One thing I ask of the Lord, this is what I seek:  That I may dwell in the house of the Lord all the days of my life, to gaze upon the beauty of the Lord and to seek Him in His temple.
(Psalm 27:4)
The Great Message on Talk Radio 1210 WPHT
The Great Message is a weekly, one-hour, pre-recorded broadcast for the purpose of the Gospel's dissemination, airing on Talk Radio 1210 WPHT in Philadelphia. The standard format has Pastor Lacey sharing an eleven-minute homily, followed by three segments of conversation with a guest, often, but not always, a fellow pastor.